Experience Running a Real-World Bank
Executive Suite Banking Simulation™
Immerse your future leaders and new hires in the day-to-day challenges experienced by bank executives.
Think like a CEO and experience the challenges bank leaders face every day. PSI's Executive Suite Banking Simulation™ is available in-person or virtually, providing a hands-on opportunity to manage a large regional financial services institution.
PSI's simulation is designed for employees that require a deeper understanding of the bank, including:
Z

Future leaders


Z

New hires


Z

Technology


Z

Finance

Z

Audit


Z

Risk


Z

Analytics


Z

Operations

Z

HR


Z

Legal


Z

And more…
The Learner Experience
During the simulation, your learners work in teams to run a large, full-service financial institution. PSI's simulation provides learners with an intense and competitive experience that allows them to "walk in the shoes" of senior executives within a banking institution, and:
Set business strategies targeting customer segments, managing products/services and delivery channels
Manage risk, including credit, interest rate, liquidity and market risk
Align operations with business strategy (including technology improvements)
Build critical thinking skills by linking the impact their decisions have on their bank's or client's financials and metrics
Evaluate the impact of competitors, the economy and risk on the bank's or client's success
Call us to learn more at
1-866-468-6774!
PSI's experienced instructors deliver the simulation in virtual or in-person classes.
We will create a tailored agenda focused on your needs.
Our instructors are seasoned industry experts that offer a unique combination of highly-effective facilitation and in-depth industry knowledge to ensure success.
Develop Your Bank Industry Professionals
Schedule a Demo or Download the PDF to learn more about how you can develop your future leaders.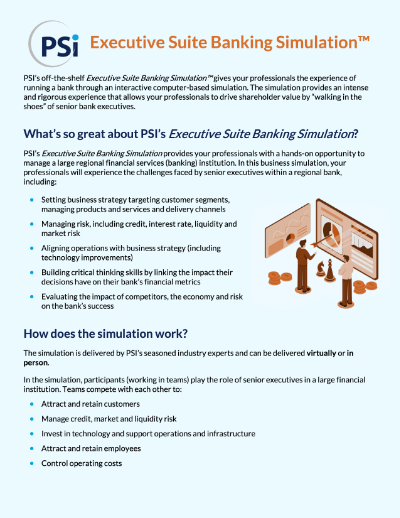 "*" indicates required fields
In early 2023, the financial landscape witnessed a series of events as several banks faced unexpected collapses and had to sell off their operations. These incidents not only highlighted...
read more